Established in 2016 by the committee of the SpCCJ to recognize successful business relations between Spain and Japan, the SJBCA has become one of the most important events among the Spain-Japan business community in Japan.
In its eighth edition, the Board of Directors of the SpCCJ is pleased to announce that the 2023 award has been granted to Hitachi Group, to recognize its contribution to Spain-Japan commercial relations with participation in areas like mobility, renewable energy and IT, key industries to building smarter, greener, and more efficient systems for the future.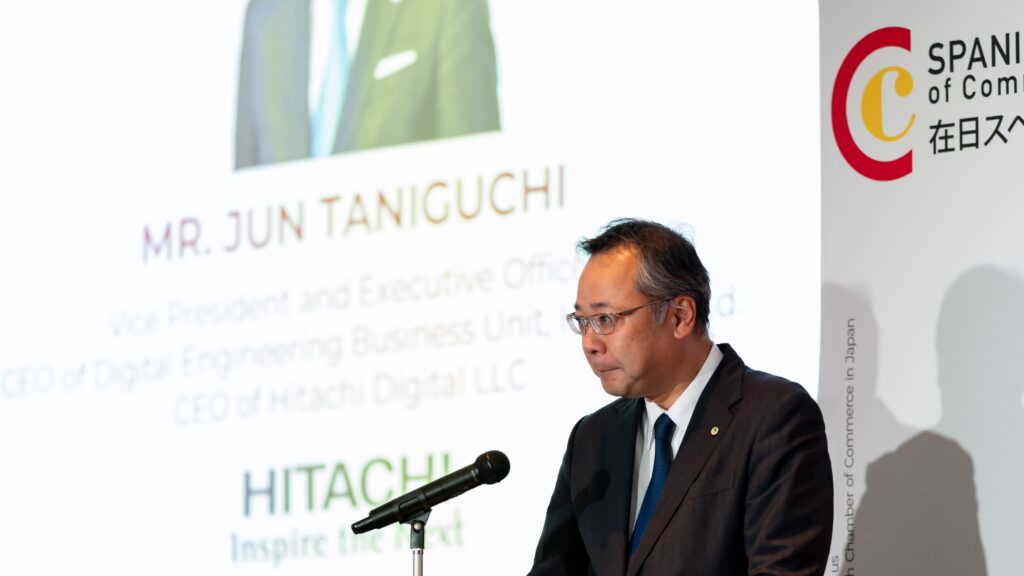 A significant milestone in this collaborative journey was marked in 2023 when GlobalLogic Inc., a Hitachi Group company, announced its strategic decision to establish a legal entity in Spain and revealed plans to open new engineering centres across Spain, solidifying its commitment to enhancing the technological landscape of the country.
GlobalLogic's decision to choose Spain will have a positive impact in different areas including knowledge transfer promotion, employment generation, economic growth stimulation, fostering collaboration among institutions and local companies, and enhancing the country's reputation in the global technology industry.
It also strengthens the digital transformation agenda of Spain and its image of the country as an investment destination that will certainly encourage other businesses to establish operations in Spain.
In addition to GlobalLogic, Hitachi Group has already established six other subsidiaries in Spain: Hitachi Energy Spain SAU, Hitachi Europe SA, Hitachi Rail Espana SL, Hitachi Rail Transportation Systems Spain SA, Hitachi Vantara SA, and VLC Photonics SL. Collectively, these entities play a pivotal role in reinforcing the business relations between Spain and Japan, spanning various industries, and promoting economic and technological growth.
On November 10th, 2023 Mr Jun Taniguchi, Vice President and Executive Officer of Hitachi, Ltd. and CEO of Hitachi Digital LLC received the award from the HE Ambassador of Spain to Japan, HE Fidel Sendagorta Gomez del Campillo in a ceremony and reception held at the Tokyo EDITION, Toranomon, with over 100 distinguished guests from the Spain Japan business community. Guests will enjoy dinner inspired by the flavour of Spain, and excellent Spanish cava and wine provided by six Spanish brands.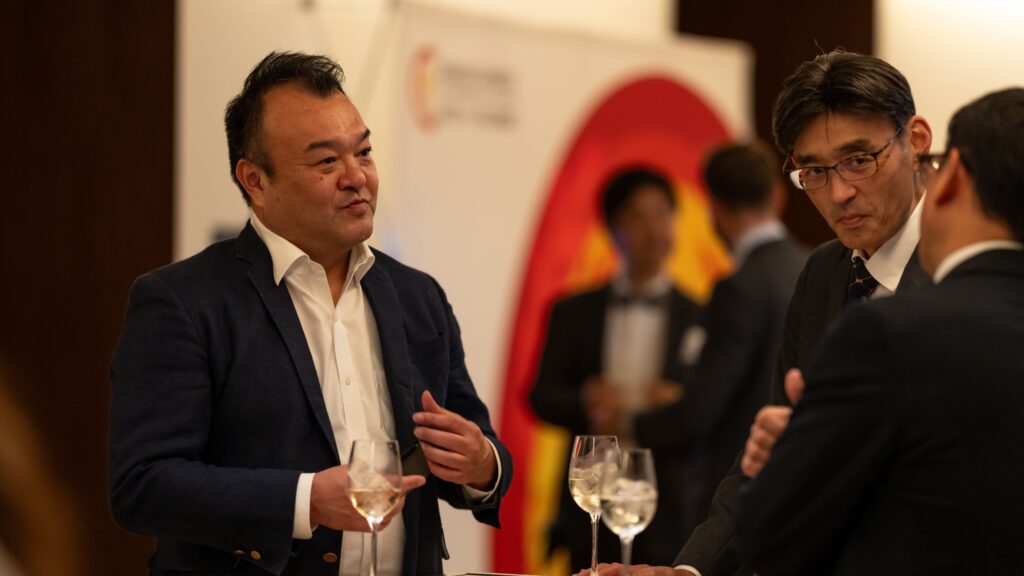 The culinary experience for the evening has been expertly curated by the prestigious chef Mateu Villaret, the founder of the Michelin Guide restaurant Masía. Chef Villaret has crafted a menu that seamlessly blends local ingredients with Spanish gourmet influences, promising a delightful gastronomic journey.
The SJBCA is reinforced by various SpCCJ members and supporting companies; vintners CVNE, Freixenet, Felix Solis, Garcia Carrion, Osborne and Oui Wine Wine have graciously underwritten a selection of fine Spanish wines and cava. Solan de Cabras delivers its signature Spanish mineral water, while Mahou steps in as the exclusive beer sponsor. The enduring ally, Lladró, contributes a 'Gallop' trophy, symbolizing the swift ascent in Spain-Japan commercial ties. This edition also features Papabubble's custom confections, specially tailored for the ceremony, sweetening the collaborative atmosphere.
List of SJBCA winners
2016 LaLiga
2017 Rakuten, Inc.
2018 Gestamp Autotech Japan
2019 FAST RETAILING CO., LTD.
2020 Japan Airlines and Amadeus IT Group S.A. (Joint Awards)
2021 Sports&Life (S&L)
2022 NTT DATA, Inc.
2023 Hitachi Group
About Hitachi Group
Hitachi drives the Social Innovation Business, creating a sustainable society through the use of data and technology. We solve customers' and society's challenges with Lumada solutions leveraging IT, OT (Operational Technology) and products. Hitachi operates under the business structure of "Digital Systems & Services" – supporting our customers' digital transformation; "Green Energy & Mobility" – contributing to a decarbonized society through energy and railway systems, and "Connective Industries" – connecting products through digital technology to provide solutions in various industries. Driven by Digital, Green, and Innovation, we aim for growth through co-creation with our customers. The company's consolidated revenues for the fiscal year 2022 (ended March 31, 2023) totalled 10,881.1 billion yen, with 696 consolidated subsidiaries and approximately 320,000 employees worldwide. For more information on Hitachi, please visit the company's website at https://www.hitachi.com.
About the Spanish Chamber of Commerce in Japan
The Spanish Chamber of Commerce in Japan (SpCCJ) is a non-profit association of business firms and individual professionals belonging to different trades and industries whose goal is to further their interests in Japan and Spain. In line with these goals, the SpCCJ channels the activities of the Japanese and Spanish business communities in Japan, fostering commercial relationships as well as developing a network to help existing and new members, attending, and solving import/export and promotion queries through its service catalogue. More Info.