Join the Innovation Webinar with APAC Spanish Chambers of Commerce
July 31
@
4:00 am
–
5:00 pm
JST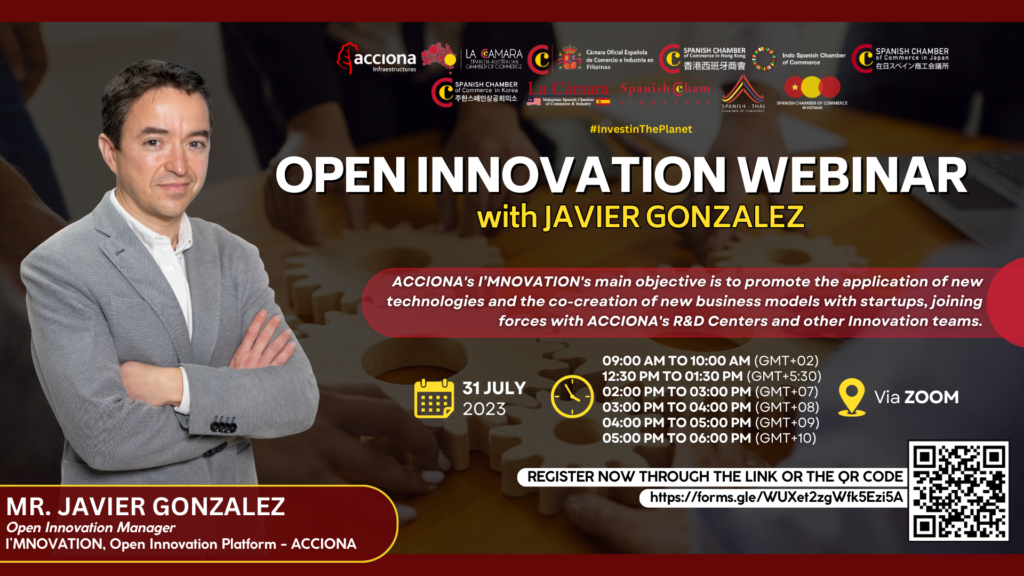 Spanish Chamber of Commerce in Japan will co-host an Innovation Webinar in collaboration with Spanish Chamber of Commerce in APAC area and the Spanish infrastructure solutions multinational conglomerate, ACCIONA.
Under the framework of the I'MNOVATION platform, Javier Gonzalez, Open Innovation Manager at ACCIONA, and his team are fostering the collaboration between startups and the different business units of the company.
The main objective of I'MNOVATION is to promote the application of new technologies and the co-creation of new business models with startups, joining forces with ACCIONA Centers and Innovation teams.
With more than 50 projects developed, this initiative started in Spain and Chile with other countries in the roadmap, as part of the international expansion of the open innovation initiatives.
Join us and our APAC chamber followers on Monday, July 31 from 4PM JST, enjoy a conversation on successful startup initiatives, and discover ACCIONA's I'MNOVATION platform as well as how it could benefit your business ideas.
---
Event Details
Date: Monday, July 31, 2023
Time: 4:00PM ~
Place: Online
Price: Free
Registration: Click here to register.