7th Inter-Chamber Ski and Networking Event
February 18 @ 10:00 am

-

9:00 pm

JST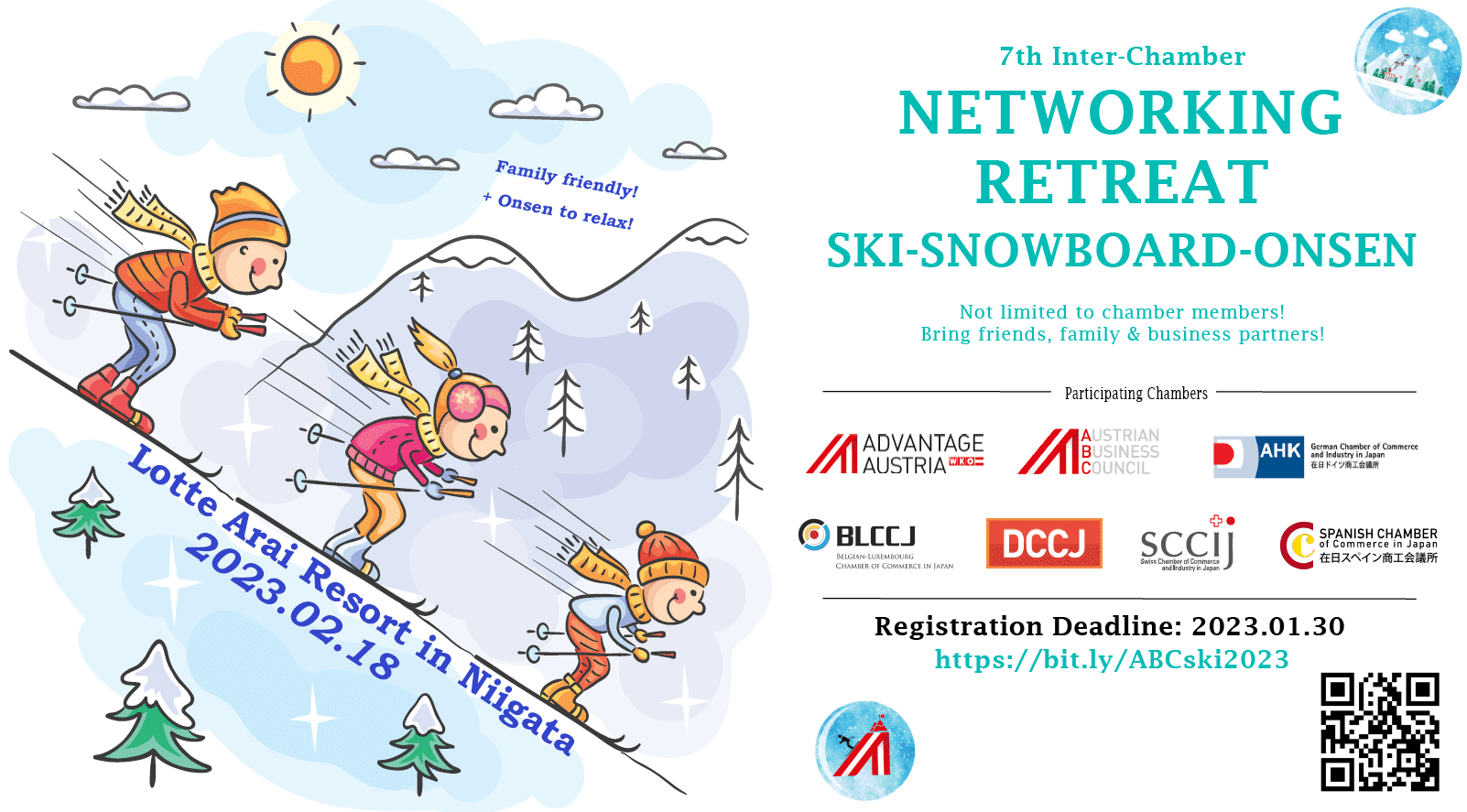 Skiers, Snowboarders and Onsen Fans – Japan is open again and so is our winter networking event for 2023!
The 7th edition on Feb. 18th, 2023, will bring us back to the Lotte Arai Resort, in Niigata, which did a fantastic job to realize the 2022 edition despite the difficult circumstances resulting from Covid-19 measures.
Members, friends and families of foreign chambers of commerce join us for a friendly race and a great evening networking party in the mountains of Niigata.
With around 100 people attending, this is probably the largest inter-chamber weekend retreat in Japan.
Organized by foreign chambers in Japan, half the attendees are usually Japanese, the other half are foreign nationals. Families, partners and children are most welcome!
Please find also event flyer HERE!
Venue:
Lotte Arai Resort
1966 Ryozenji, Myoko City, Niigata
Tel. +81 255-75-1100
Approx. 20 Minutes from the Jyoetsu Myoko shinkansen station by shuttle bus or taxi.
Date: 18 February 2023, race and evening award party
Accommodation can be arranged freely by participants themselves, fitting their needs as families, groups of friends or single participants.
Note: the evening networking party will take place in the Lotte Arai Resort.
For early birds who decide by end of December 2022, you can reserve your room according to the following prices:
For single: JPY 20.000 per night (room only)
For double: JPY 25.000 per night (room only)
For triple: JPY 28.000 per night (room only)
The above prices are subject to a 10% tax and a local onsen fee (JPY 150 per guest older than 12 years old). Some discounts also apply to preschoolers who sleep with their parents.
Breakfast: Adult (incl. tax): JPY 2.420, Child: JPY 1.540
Breakfast and Dinner: Adult (incl. tax): JPY 6.710, Child: JPY 4.180
*Child: 4 to 12 years old, free for under 3 years old
For early birds: please contact the Hotel directly via Mail (koike_y@lotte.net), Mr. Koike, and use the email title/subject: "InterChamber Ski Race 2023," followed by your name (= the name of the person who is in charge for your family or group of friends for the booking.

Race tickets
JPY 2,500 for Ski/ Snowboard adult
JPY 1,250 for those under 20 years old
Award Party

JPY 6,600 for participants over 12 years old
JPY 3,300 for school kids til 12 years old
free for Preschooler
For your information
Lift Ticket, please arrange yourself, can be bought directly at the hotel.
Ticket for 12+ years old: JPY 4.840/1day, JPY 9,020 /2day
Ticket for 7-11 years old: JPY 3.080/1 day, JPY 5.720 /2day
We are also inviting companies to become sponsors of this event!
Either as the main sponsor for the event/networking evening or for sponsoring raffle prizes.
Email us (tokyo@advantageaustria.org), we need your support!

Participating Chambers:
Are you not a member of the SpCCJ yet? Find out more about the membership category and benefits on our website and contact us at info@spanishchamber.or.jp. Memberships are available from JPY10,000/year.